After months of speculation and just teasers to go off, we now have concrete information about Arcane, Riot Games' League of Legends-inspired Netflix Series. The developer released a full trailer on Saturday, September 25, as well as release dates and more details.
The trailer seems to show the story will focus on LoL characters Jinx and Vi and their lives in Piltover. What's more, the trailer appeared to show Caitlyn, Jayce, Heimerdinger, and Viktor, giving us a full array of the Hex-tech wielding cities champions.
We've known about the series since May, when Netflix first leaked details. Netflix has recently taken a big drive into video games, and specifically Moba-related, IPs. The streaming platform debuted Dota 2: Dragon's Blood earlier this year to critical acclaim. Now Dota 2's rival game League of Legends is set to hit the platform.
Along with a trailer, we also found out more about the cast. Vi will be played by Hailee Stenfield, with sister Jinx played by Ella Purnell. Have will be played by Kevin Alejandro, and Caitlyn by Katie Leung.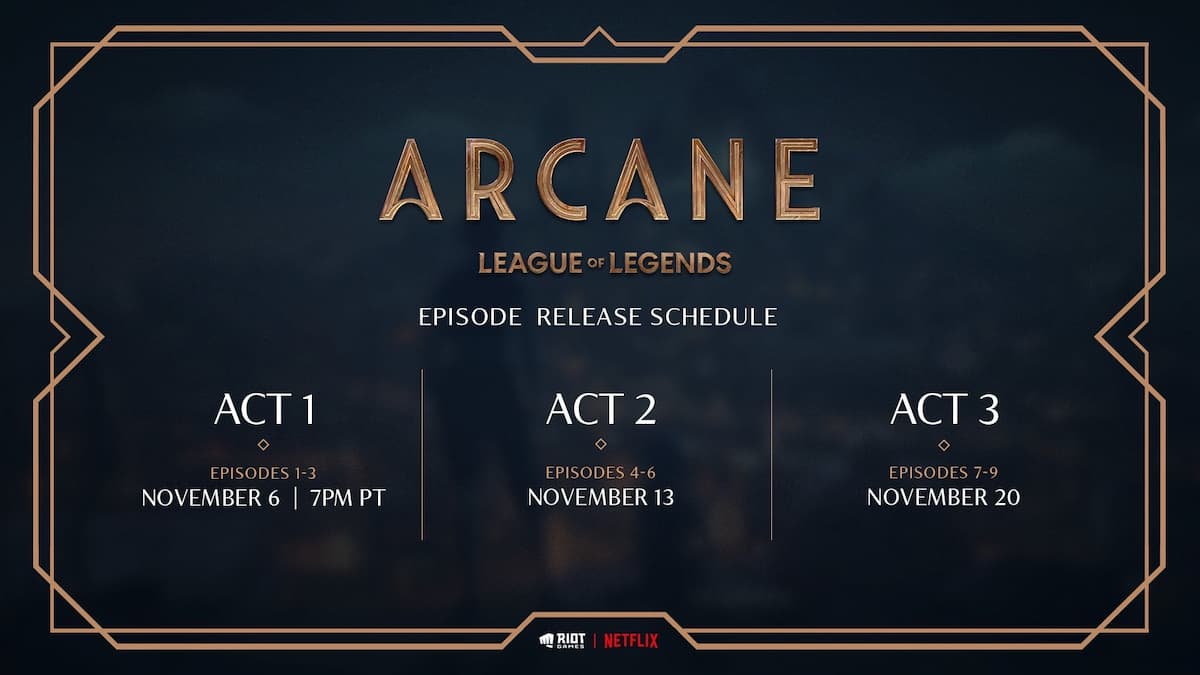 Riot also revealed the staggered release schedule of the series. The show will release in three episodes' Acts,' with the first debuting just after the end of Worlds 2021 on November 6. The remaining parts will release on November 13 and November 20, giving us a month of Arcane action.
The hype around the series is tremendous, as for years, fans have been clamoring for something deeper than League of Legends' champion profiles to sink their teeth into. Comics and interactive events have satisfied up until now, but a whole Netflix series is sure to please dedicated LoL lore fans.